Time flies fast. And now is Autumn festival. In order to enhance the happiness of employees and let employees share the fruits of enterprise development, from November 3 to November 4, Rakinda Group (Guangzhou·Shenzhen) organized all employees of 2018 to go to the "Lingnan County" and "Yuedong Gateway". "Huizhou, the reputation of "half-city half-city lake", began a two-day and one-night team tour.
At the first stop, we first came to the town of Hastatt in Bologna, Huizhou, and felt the exotic atmosphere like a fairyland. This project takes a holistic view of the world-famous cultural heritage of the world's most beautiful village, the village of Hastat, the distant view of the family in the steeple church, European-style wooden houses and angel carvings, around the village's main square The scenic spots left a good memory.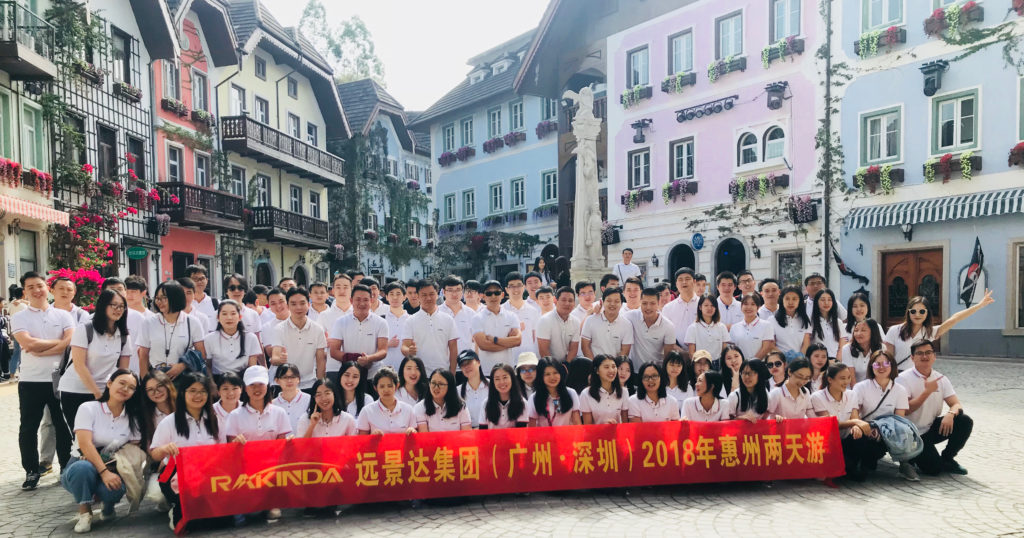 After lunch, we came to Shuilian Cave, one of the eight scenic spots in Huizhou. We rode around Honghua Lake and enjoyed the breeze and the birds and flowers of nature. We experienced the fact that the mountain is not high and elegant, and the forest is not dyed and the water is green. The characteristics of the scenic spot are not deep and clarified, the tree is not old and flourishing. There are also many small partners who have overcome difficulties and surpassed the self-completed 18-kilometer lake ride.
In the evening, we walked into the world of springs where people and flowers, people and water merged, the lakes of the island are floating, the fish are in groups, the ducks and ducks are playing; the Xiangshui River is snorkeling, the waves are shot, the waves are splashing… …to participate in the enthusiasm of the enthusiasm of the enthusiasm, the breath of pure natural air rich in negative ions, the characteristic hot springs to eliminate the tiredness after a day of fun.
In this activity, the prospective family members help each other, unite and love, fully demonstrate the good spirit of the company's employees, expand their horizons, relax their feelings, enhance the feelings between colleagues, enhance their sense of belonging and cohesion. In the end, I hope that the people in the Rakinda can make persistent efforts, create new achievements, and devote more enthusiasm to their own work, and give full play to their potential. In the future, we will work together for a better future!
Sunny Deng
Email: liza@rakinda.com
Skype:live:f51c1d62d4afc7c8
Wechat :+8613714766715
Mobile/Whatsapp:+86-13714766715
QQ:3005310588