2D Barcode Scanner LV3396 OEM Module with Laser Aiming
All-in-One Design

Highly Visible Laser Aimer

Outstanding Power Efficiency
Get quotation
Product Description
Introduce
The LV 3396 OEM scan engine armed with the Rakinda patented, a computerized image recognition system brings about a new era of 2d barcode scanner engines.
The LV3396 's 2D barcode decoder chip ingeniously blends technology and advanced chip design & manufacturing, which significantly simplifies application design and delivers superior performance and solid reliability with low power consumption.
The LV 3396 2d barcode scanner supports all mainstream 1D as well as PDF417, QR Code (QR1, QR2, Micro QR), Chinese Sensible Code, Data Matrix and GS1-DataBarTM(RSS) (Limited/ Stacked/ Expanded versions)
Features
1. Highly Visible Laser Aimer
The scan engine provides a laser-generated crosshair aiming pattern that is clear and bright even in bright sunlight, ensuring first-time accurate aim.
2. Outstanding Power Efficiency
The advanced high technology incorporated in the scan engine helps reduce the power consumption and prolong the service life of the device.
3. Technology
Armed with Rakinda ' s six-generation of technology, the scan engine can swiftly and effortlessly decode even poor quality bar codes.
4. All-in-One Design
Seamless integration of image sensor and decoder board makes the scan engine small, lightweight and easy to fit into even the most space-constrained equipment. (Seamlessly compatible with LV3096)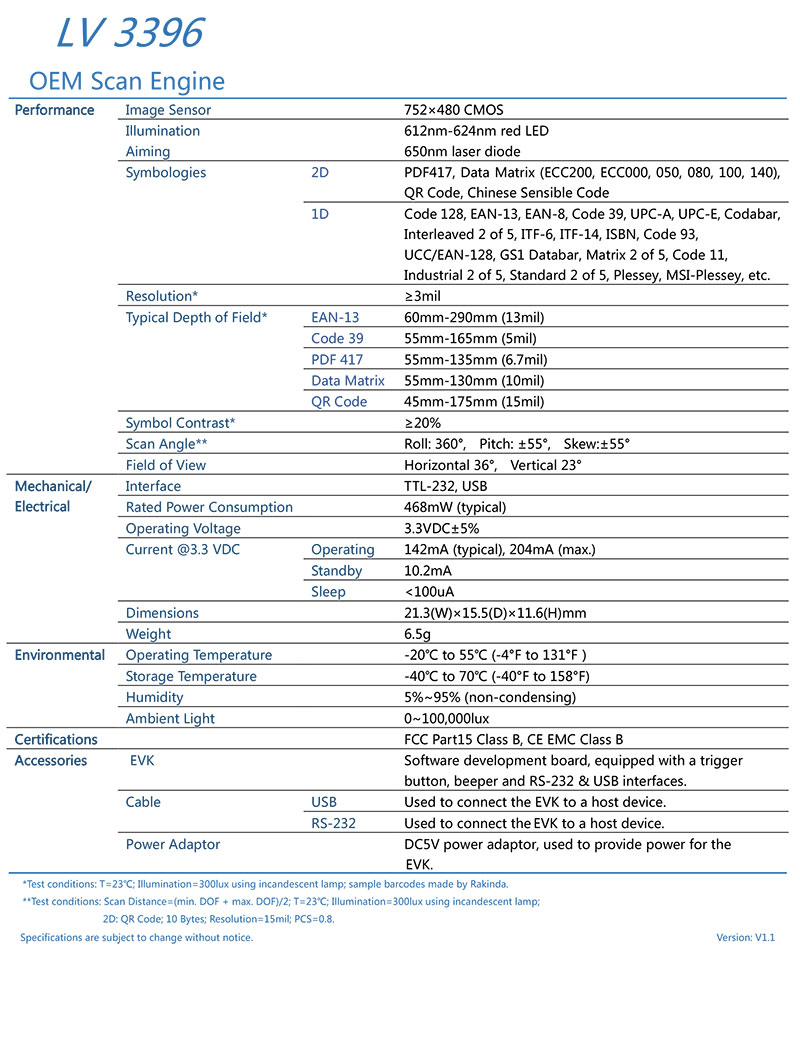 Application Scenarios (as an accessory)
Traditional self-service devices, PDAs, tablets and other thin & light mobile devices.