With the development of bar code technology, enterprises have become more and more demanding on bar code reading engines, which has prompted bar code reading engine developers to integrate new technology cores and strengthen product performance.
In the era of the Internet of Things(IOT), bar codes are undoubtedly very important. It not only enables automatic entry of document data, but also traces the historical production and sales process of the product. At present, bar code technology has been applied in various fields such as retail, government, transportation, logistics, warehousing, manufacturing, and medical and health. So decode barcode engine plays more and more important part in nowadays' life.
Rakinda based on today's condition and develops high performance 4500R fixed mount barcode scanner that widely using in vending machine , kiosk , metro, access control, turnstile and so on.
4500R fixed mount barcode scanner water, dustproof, it has good performance on reader paper and mobile screen code. Even in the darkness and sunshine, it can read the barcode.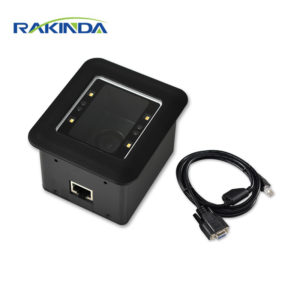 Its feature as below :
1, Embedded high-performance processing chip: fast decoding speed, reading accuracy and ability;IOTC 0370 CH chiset
2, Paper code reading ability: the main 2D barcode printed on paper and various 1D barcodes can also be read;
3, LCD reading ability: high-performance mobile phone bar code reader, literacy has reached the international advanced level;
4, High-speed reading: for different mobile phone LCD screens, generally have different contrast, color and reflection level, the scanner can be quickly read.
5, Easy to use: you can read the parameters provided in the user manual to set the parameters of the scanner to make the scanner work optimally.
If any interests, pls feel free to contact with Rakinda.
Shenzhen RAKINDA Technology Co., Ltd. is specialized in the development of smart card hardware and software systems, production, sales and operations in one of the national high-tech enterprises. Products are widely used in city card, park area, retail businesses, parking fees, government platforms and other consumer areas. With years of focus on management, innovation and development, the company in the industry
Has a wide range of customer base and industry reputation, to achieve the city card applications and urban bus intelligent scheduling management.RAKINDA engaged in barcode technology research and development for more than 18 years, we have a mature R & D team and overseas markets, we can help you quickly and easily realize unattended dream.
18 Years ' experience In Barcode Solutions
Shenzhen RakindaTechnologies Co.,Ltd
Best Regards
Sunny Deng
Email: liza@rakinda.com
Skype:live:f51c1d62d4afc7c8
Wechat :+8613714766715
Mobile/Whatsapp:+86-13714766715